Halloween Costume Ideas from Raffles Lecturers and Staff
Despite the fact that Thailand does not celebrate Halloween, the spirit of the holiday lives on in store decorations all over the country. As an international college, Raffles has an international atmosphere and aims to appreciate cultures from all over the world. Most importantly, we are a design school; therefore, no one will back down when a costume is brought to the table. Take a peek at our lecturers' and staff's Halloween costume choices.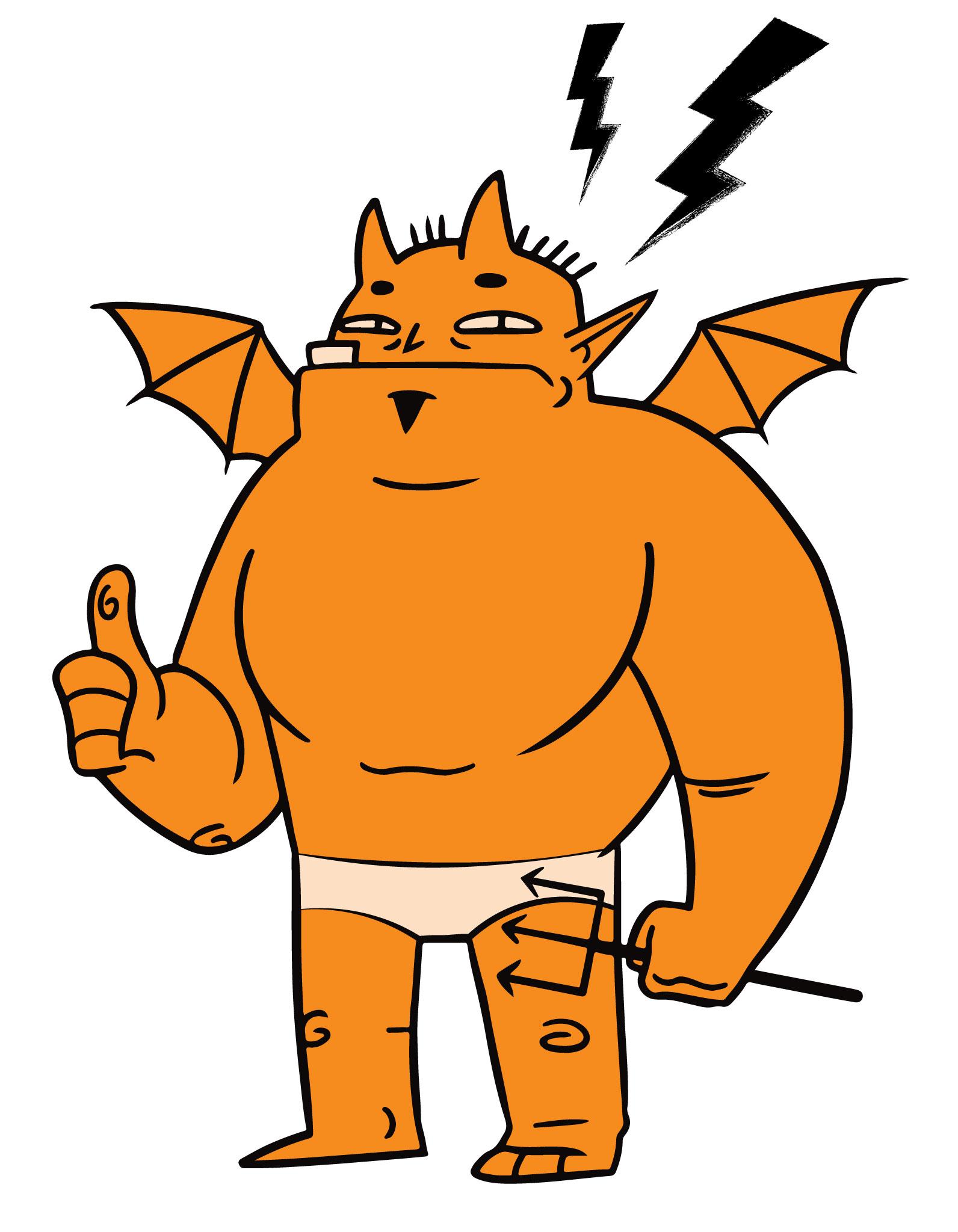 Valentine Vu
Academic Lead
"I haven't worn a Halloween costume since I was 13, but if I had to this year, I will unquestionably wear the Corona-19 virus costume since it is currently the scariest thing."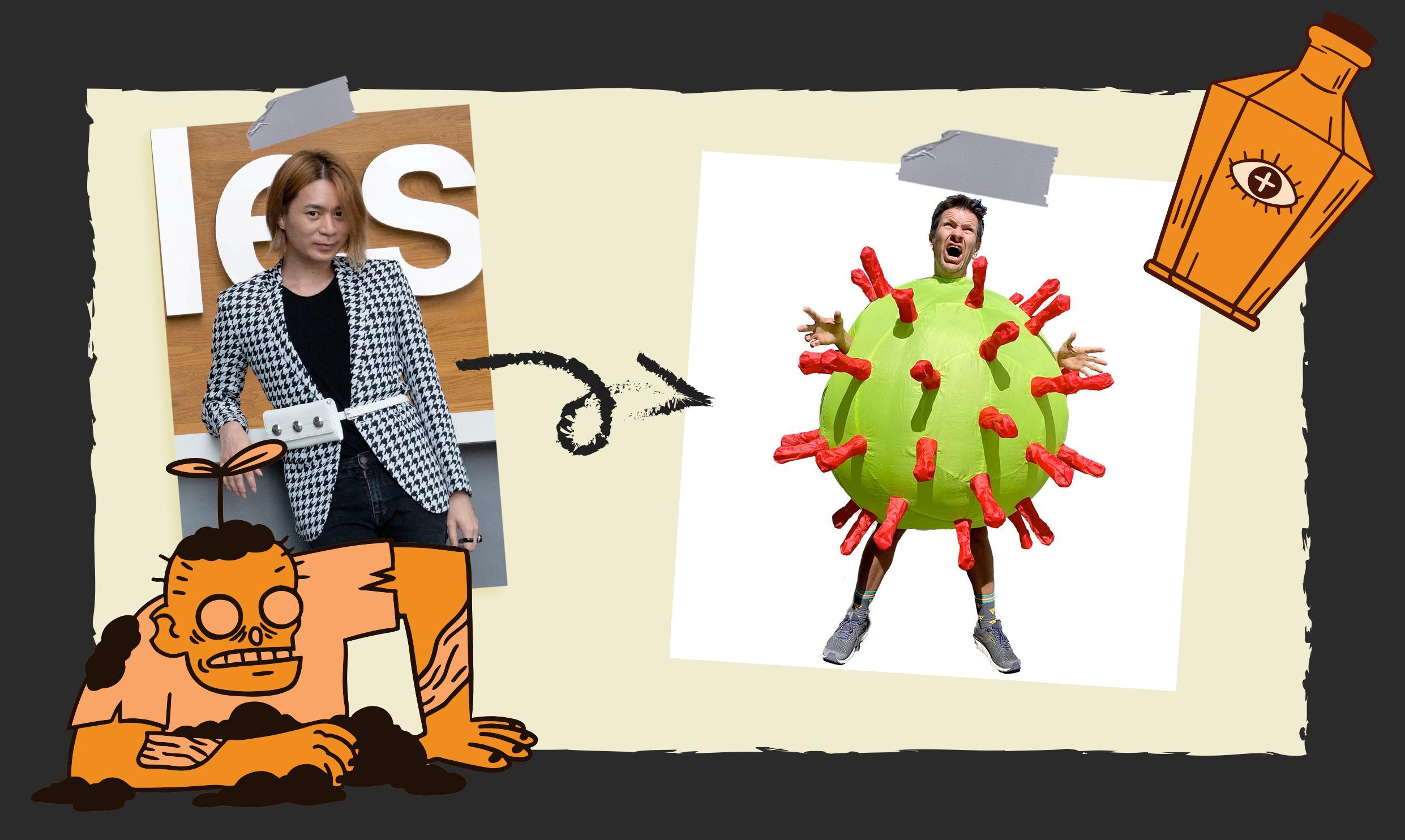 Mike Vancoillie
Fashion Design Lecturer
"It's an outfit from a Belgian designer, Walter Van Beirendonck, who's famous for his rather outlandish and highly conceptual collections and one of my favourite designers.  
This outfit is from Fall/Winter 19, when the Covid-19 had started but not spread worldwide yet. 
I'm personally a big fan of colour and print, and I think the outfit has a good combination of fun, scary and crazy to entice the kids 😬. 
It also looks highly huggable and protective at the same time, very important in these almost-post-lockdown Covid-19 times, where you want to hug people but stay at a safe distance away at the same time (behind the puffer coat and fur) 
And it has to be worn with a face mask patterned as this face paint, for the full effect."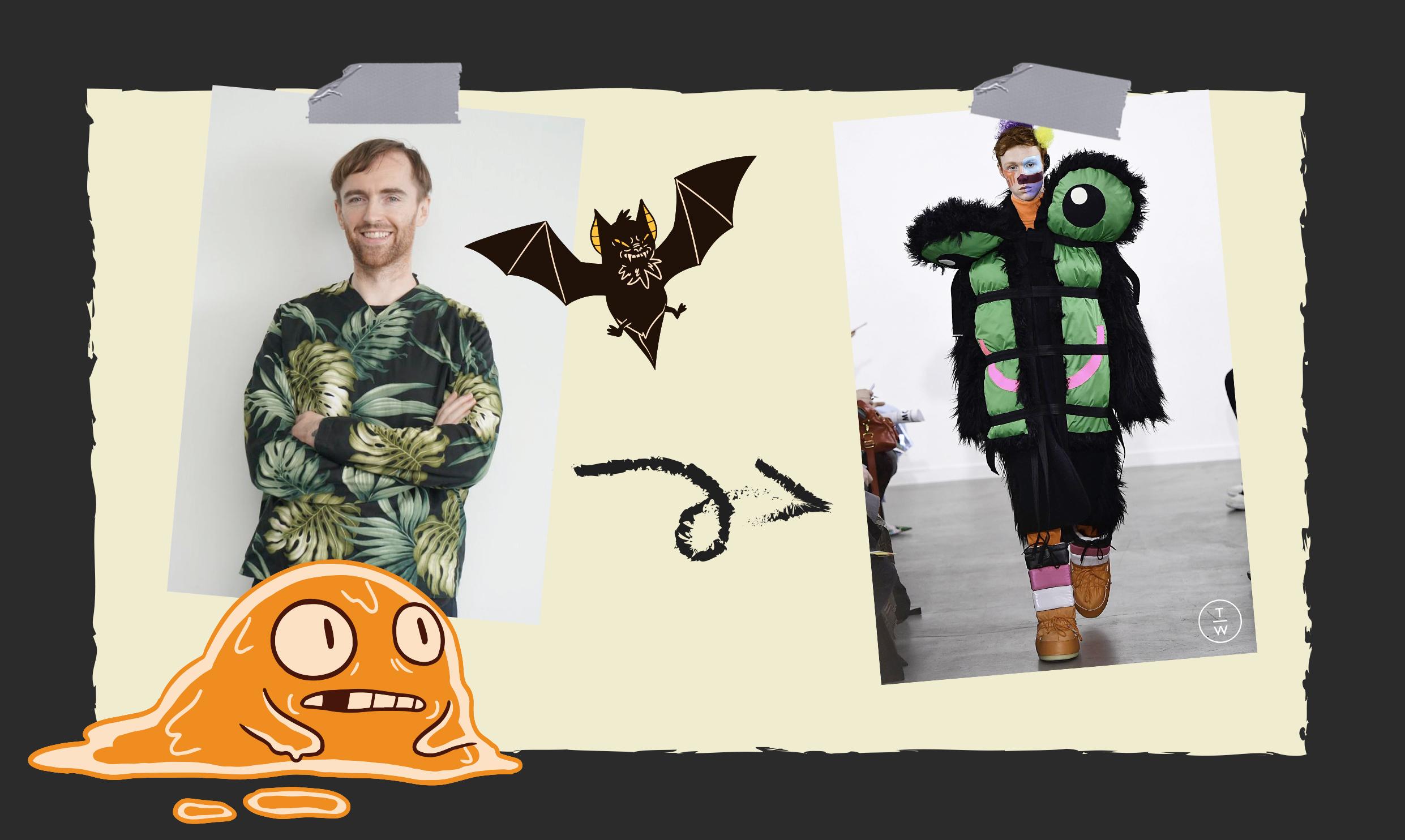 Gabriella Power
PD Program Coordinator & ID Lecturer
"Despite the fact that we must still wear face masks at this time, my costume will be inspired by Kim Kardashian's appearance from the Met Gala this year. I'm going to cover my entire body! The look is both frightening and elegant, making it perfect for my Halloween costume."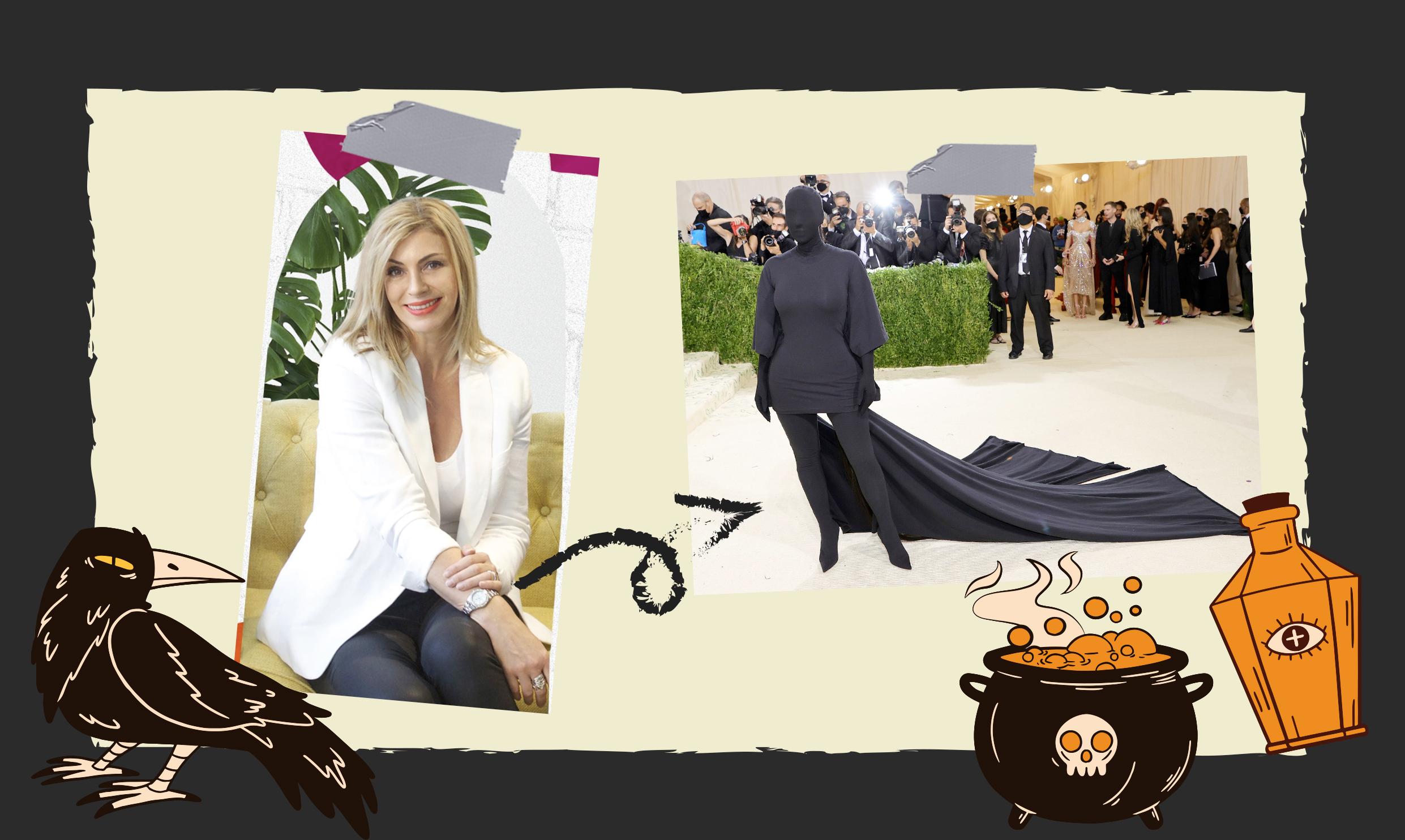 "Mink" Pawarisara Choengru
Digital Marketing Executive
"Do not believe what you see as cute until you know it is scary. I would like to be a Squid Game doll. This character is such famous and representative one from this movie. Even though she looks like a cute girl but there is a hidden fear from her eyes."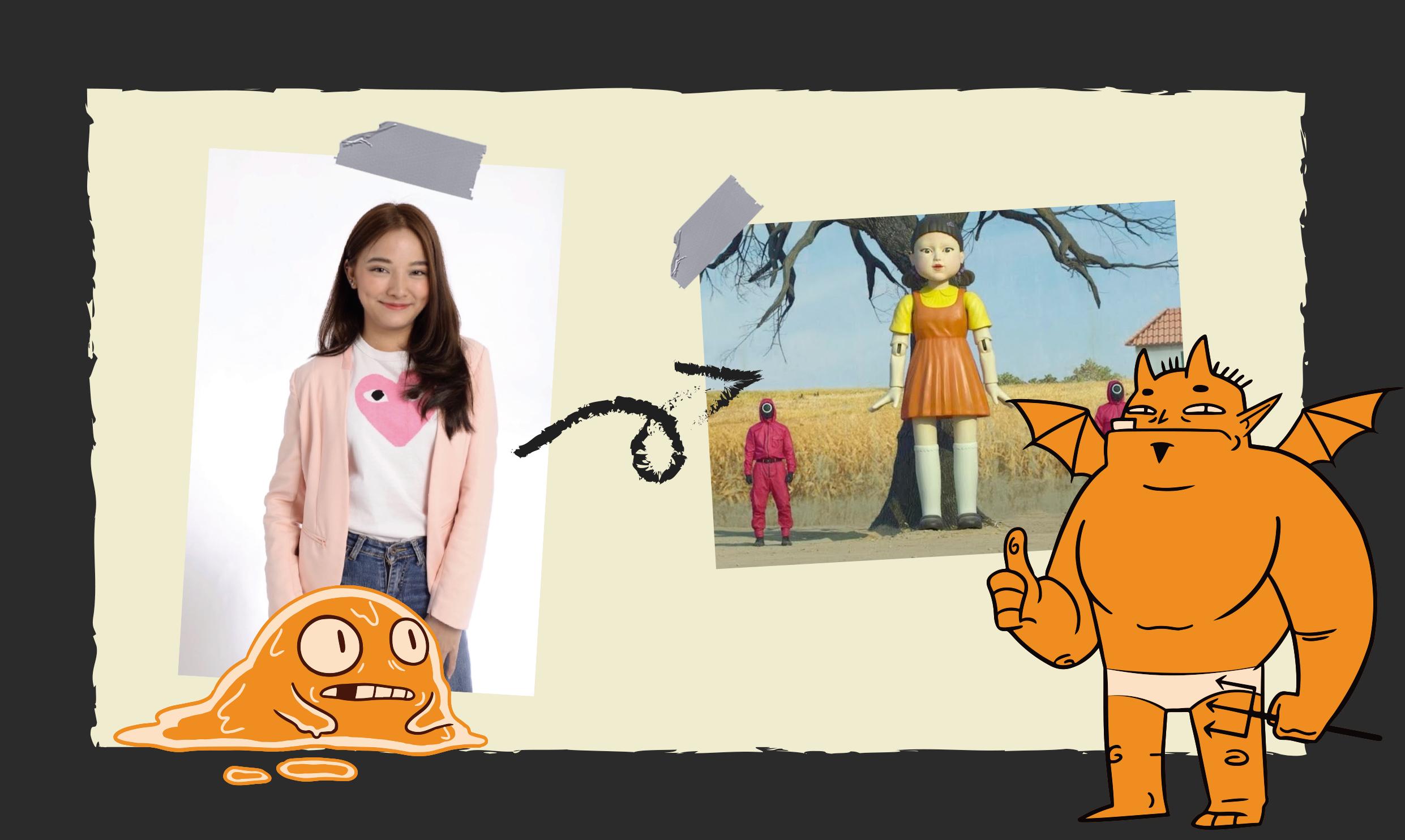 "Patty" Piyaporn Boonsarng
Student Services Manager
"My idea on what to dress up on Halloween season would be Zombies. It may not be the most original idea, but it is always one of the most popular Halloween costume ideas. It makes sense; zombies never go out of fashion, and they are always so much fun to dress as!!"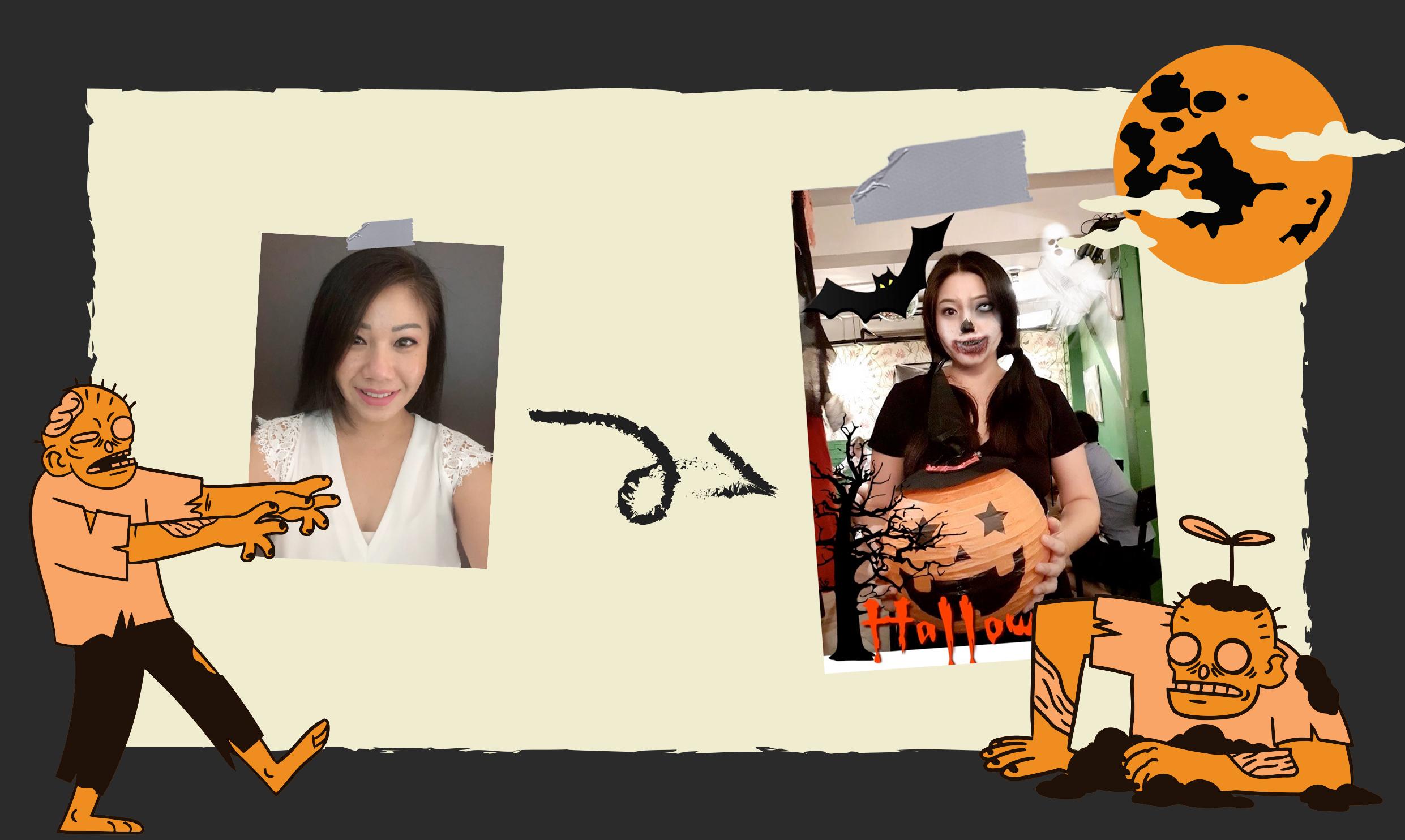 "Wickki" Suphakchaya Bunhan
Education Consultant Team Leader
"Emily, the Corpse Bride, will be my costume. She's still elegant as a corpse. Her purple lips are now her only colorful feature, which contrasts with her monochrome blue coloration. With the make-up and the wedding gown, I am sure that I will wow everyone!"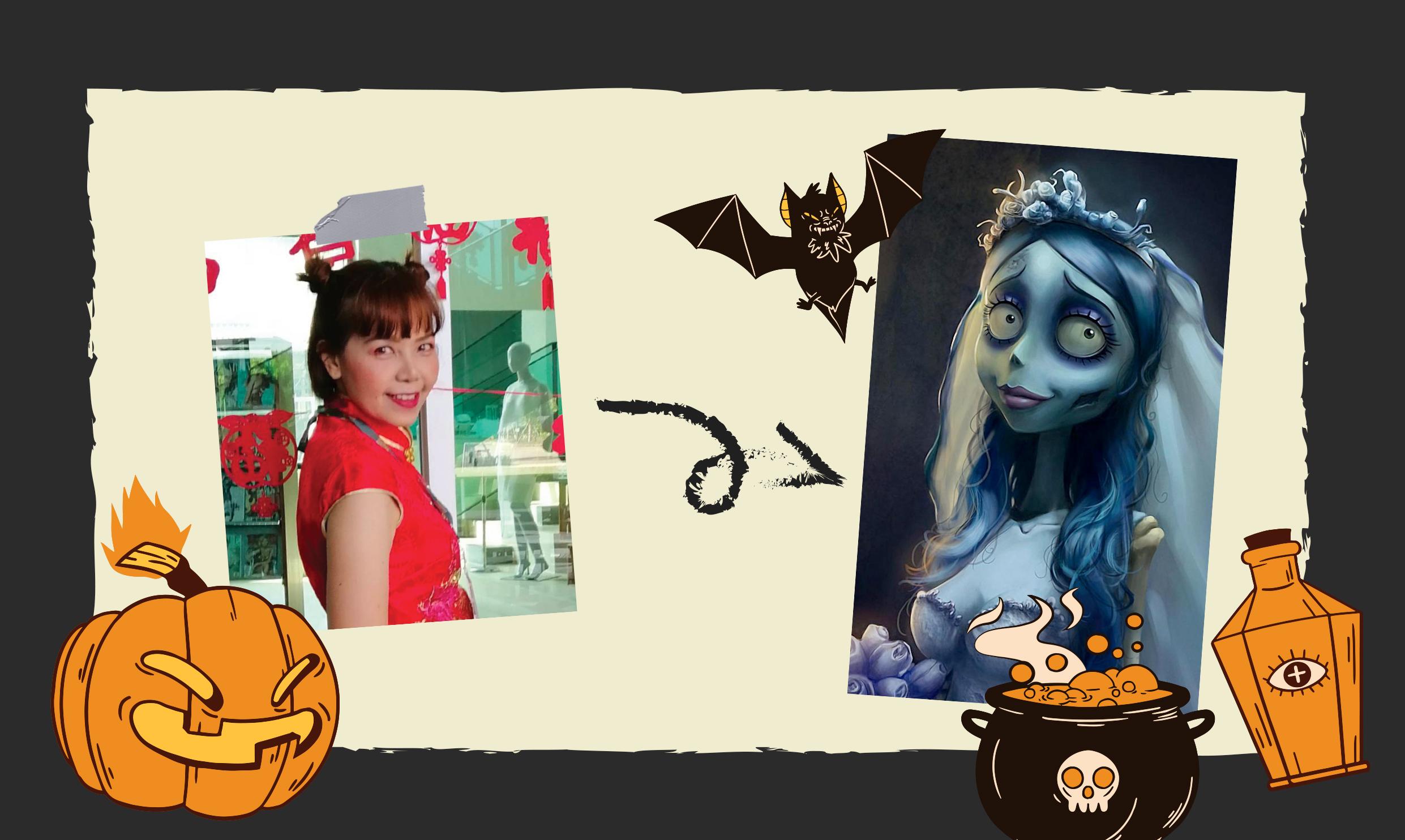 Six Career Choices for Fashion Marketing and Management Students
Raffles' Fashion Marketing and Management program will prepare you to run a fashion business. Whether it's taking over a family business or establishing your own, we are here to teach you the skills required from scratch.  
In this article, we provide six ideas of careers you can pursue after you graduate, each with an example of a real job description posted online. You can see what skills you will need to practice if you want to work in the fashion industry. Even if the job title is the same, the job description may vary by company, because each will be looking for different talents needed to complete their team.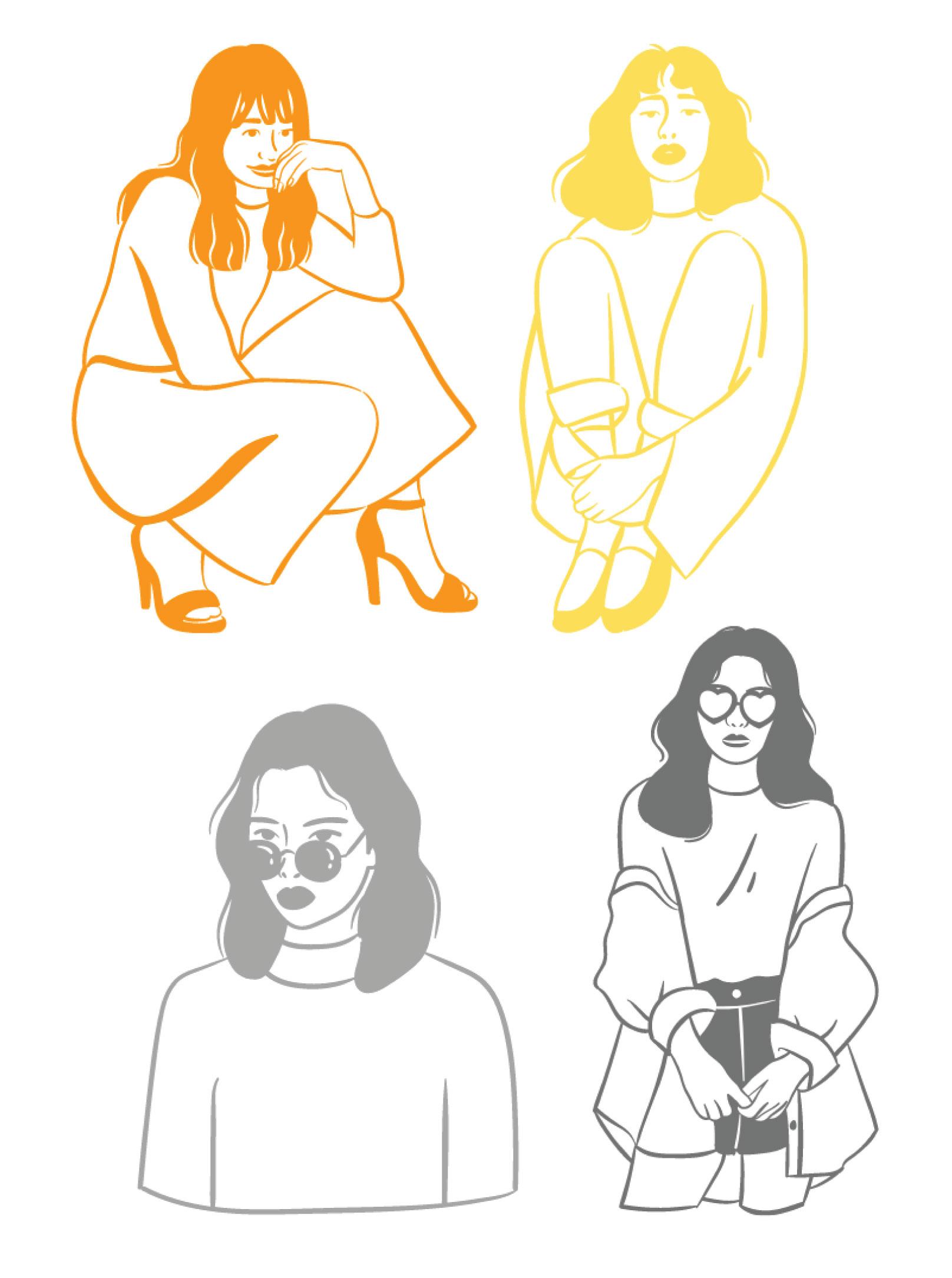 BRAND'S CREATIVE DIRECTOR
he quality of the final creative work is the responsibility of the creative director. It is a very people-oriented job that entails the creation of high-level concepts for design projects. Working with internal and external clients, pitching designs, and understanding client demands are all part of the job.  
Example of a Real Job Description 
"Express, a lively and bold lifestyle brand for ambitious individuals, has been seeking a Creative Director to provide the newest trends for style-conscious men and women. The selected person will be in charge of the overall style vision, fashion direction, and on-set styling. This person will own the look and feel of product stories and develop a distinct style POV that distinguishes Express in the marketplace, generates brand equity, and inspires customers, working in close collaboration with executive leaders across design, merchandising, online, retail, and marketing." 
Core Skills Needed for This Job 
Communication, presentation, problem-solving, and project-management. 
In the fashion business, fashion merchandising involves a variety of tasks. Product creation and manufacturing, as well as marketing and purchasing materials from vendors, are among the most significant responsibilities. Fashion merchandisers deal with a variety of products, including clothing, accessories, cosmetics, jewelry, and shoes, among others. A retail shop or a textile company are common employers for people in this position. 
Example of a Real Job Description 
"Adidas (Thailand) is searching for a Buying Specialist who can estimate product sales accurately. Create a retail purchasing strategy that aligns with the company's goals and improve the Franchise Business Unit's purchasing efficiency and stock turn. Ensure that the stores have enough stock. On important product releases, collaborate with the Marketing and Visual Merchandising teams. Provide a product sell-through report with a suggested action plan for improving the store's variety." 
Core Skills Needed for This Job 
Communication, presentation, problem-solving, and stock management. 
Fashion buyers decide what to purchase, select the mix of brands to buy, and need to know what customers are searching for, based on their understanding of fashion and their business sense. Buyers are always on the lookout for new brands, designers, and trends, in addition to keeping up good connections with leading businesses. 
Example of a Real Job Description 
"The Mall Group, Thailand's leading retail company, is searching for a Buyer / Merchandiser in the Fashion Department. This person will look for new products, maintain connections with current suppliers, and look for new sources for future products. He or she can analyze consumer purchasing patterns, forecasting future trends, and spotting emerging trends and commercial possibilities. Analyze the competitive market in terms of trends, marketing, and product strategy, and act to maintain market leadership." 
Core Skills Needed for This Job 
Communication, negotiation, problem-solving, and research. 
A fashion magazine editor collaborates closely with authors, photographers, and advertisers to ensure that readers receive the most up-to-date fashion information. These editors must meet strict deadlines and work very hard to preserve the style, editorial rules, and publishing needs of the magazine. 
Example of a Real Job Description 
"A full-time Fashion & Beauty Editor is needed at TEEN VOGUE. This person is in charge of writing, pitching, and editing features, and they should have a good understanding of how politics, society, and everyday life connect with fashion and beauty. Celebrity fashion and beauty trends, sustainability, Gen Z, runway trends, and fashion and beauty brands are all important, as are outstanding writing abilities and the ability to think outside the box with their approach to fashion and beauty. " 
Core Skills Needed for This Job 
Writing, creativity, attention to detail, and media savvy. 
A trend forecaster is in charge of spotting new trends and projecting how they will affect the business. Trend forecasters are responsible for evaluating consumer data and making suggestions based on those insights, and are usually situated at a trend forecasting company like WGSN. They also frequently travel to other places throughout the country and around the world to detect new trends and gauge a product's or idea's overall influence. 
Example of a Real Job Description  
"We're searching for a Trend Forecaster and Editor to join our WGSN team. You'll mostly be responsible for trend reporting, but you'll also be expected to alter artwork and design on occasion. This position is comparable to that of an in-house print and graphics designer. You will mostly be creating your own material, but the position will also need you to collaborate with our team of global expertise in order to assist their content creation. You'll have a decent understanding of trends, commercial market segments, and long-term viability. You'll have to be proactive in proposing new ideas and producing innovation, as well as be able to spot trends that will have a commercial influence at all levels of the fashion industry." 
Core Skills Needed for This Job 
Analytical skills, creativity, graphic design, and media savvy.
Fashion writing, often known as fashion journalism, is similar to other types of writing, but it is interesting since it focuses on the current culture of the fashion industry. You might wish to choose this area if you have a talent for writing and a passion for fashion. 
Example of a Real Job Description 
"The Fashion Writer's job is to help shape ELLE's fashion section on the website by identifying relevant fashion news stories, determining a point of difference in how ELLE should cover them, writing and interviewing for fashion features, keeping both SEO and the cultural zeitgeist in mind, and contributing to ELLE's eComm strategy with fashion shopping content. The position reports to ELLE's Executive Editor (Digital), although also entails collaborating with a variety of different departments, including ELLE's print team, as well as the central video and design desks." 
Core Skills Needed for This Job 
Communication, writing, attention to detail, research, and SEO.
Covid-19 Update in Thailand
Thailand Will Waive Covid-19 Quarantine Requirement for Fully Vaccinated Visitors from "Low-risk" Countries
From November 1st onwards, Thailand's quarantine requirements for fully vaccinated inbound tourists by plane will be lifted, Prime Minister Prayut Chan-o-cha stated in a televised address to the nation on October 11th. 
China, Germany, Singapore, the United Kingdom, and the United States are among the 10 countries on the list, according to the prime minister. By December 1st, other nations will be added. 
Those traveling from countries not on the list will still be subject to quarantine requirements, he said. 
However, in high-risk locations like Bangkok, consumption of alcohol in restaurants will remain banned. According to the prime minister, the government would consider removing the alcohol ban by December 1st and allowing entertainment establishments to reopen in order to boost the tourism industry.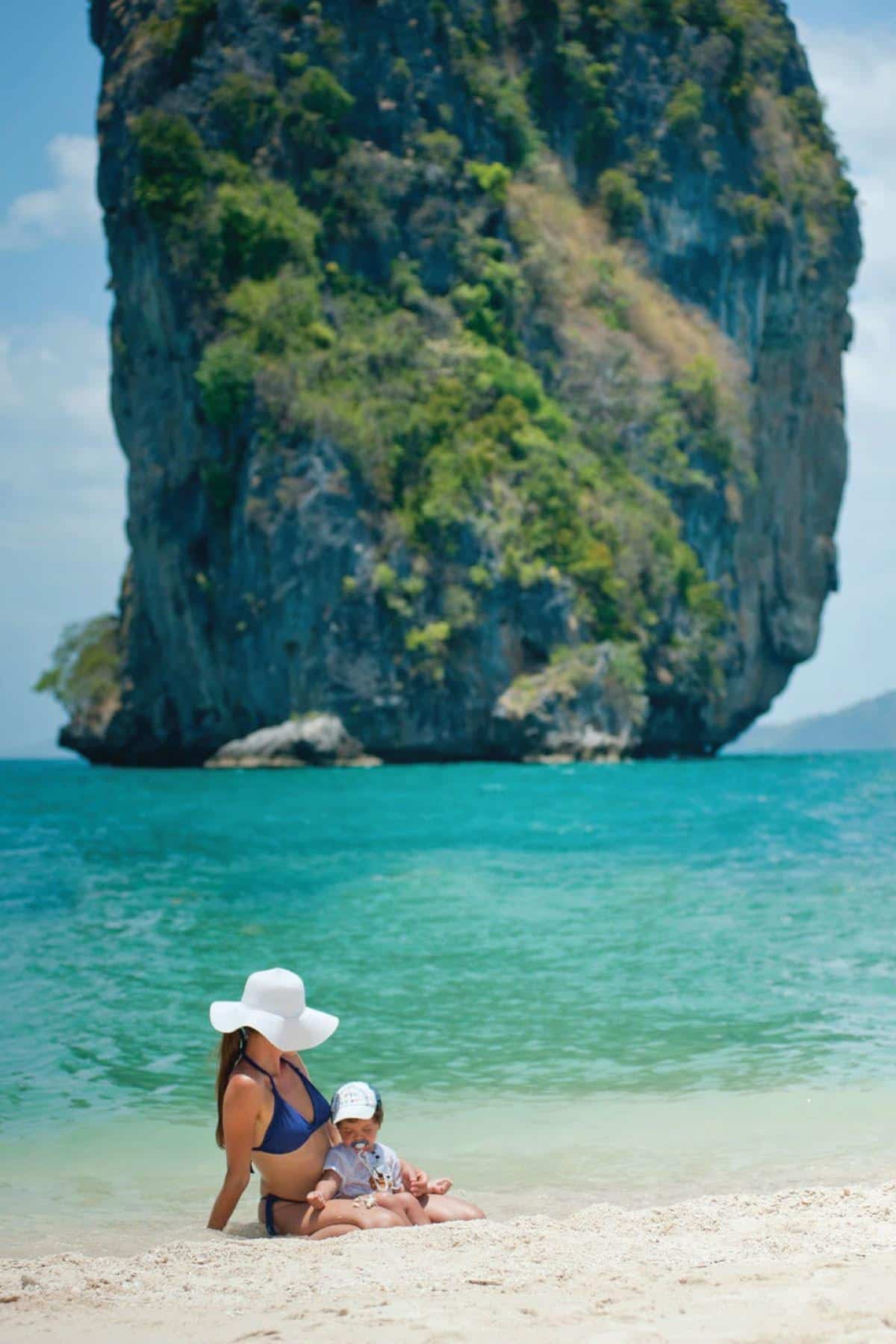 Bangkok Modifies Rules for Businesses and Activities
According to the Bangkok Metropolitan Administration announcement on temporary closures (No. 44): 
Food and beverage outlets, cinemas, theaters, department stores, stadiums, and parks can be opened during normal hours, but not later than 10 p.m.

 
Convenience stores, fresh markets, and flea markets can sell all types of products at normal hours but not later than 10 p.m. (for convenience stores that open at night, close from 10 p.m. to 3 a.m.).

 

Elder care centers can be opened by obtaining permission from Bangkok's Health Office (service recipients and staff must be vaccinated according to the criteria and must randomly undergo ATK testing of staff every week).

 

Hotels, convention centers, and exhibition halls may open for business. Seminars and other traditional events can last until 10 p.m. It is prohibited to drink alcohol. Food should be supplied in pre-packaged meals. Relaxation periods may be required to allow for appropriate ventilation and adherence to safety procedures.

 

Department stores, shopping malls, and community malls can open until 10 p.m. Consumption of alcohol is forbidden. There are no promotional activities and game centers, gaming machines, rides, amusement parks, and water parks stay closed.

 

The district office will assess and consider giving permission for playgrounds or children's playgrounds on a case-by-case basis.

 
Events or gatherings of more than 50 people should be avoided.

 
Effective from 16th – 31st October, 2021, or until further announcements.